Abramson, Brown & Dugan is an award-winning medical malpractice and serious injury law firm recognized by its peers for excellence in client advocacy and precedent setting legal practice.
The lawyers at Abramson, Brown & Dugan have won more medical malpractice settlements and verdicts than any other law firm in New Hampshire.
While awards and accolades are a testament to the firm's expertise, client satisfaction remains the most important goal for the firm.
Louise Brochu, a former client and Manchester resident noted, "They were fabulous to me, very supportive.  Mark and Eva were always there for me, they were just so responsive.  I wasn't just a number or a case to them.  They really cared about me and my situation.  I'd definitely recommend them."
The lawyers are supported by a dedicated staff, which includes registered nurses and other experienced healthcare professionals. The firm also has an extensive library of medical texts and periodicals, and access to a number of on-line databases.
With extensive experience in medical malpractice and other complex personal injury litigation, the firm has won a number of cases which have set precedents in state law. Abramson, Brown & Dugan has won more medical malpractice verdicts and settlements in New Hampshire than any other firm.
All of the firm's partners have received an "A" rating, the highest available, in Martindale-Hubbell Law Directory, a nationwide publication which independently rates lawyers on the basis of their peers' opinions. The lawyers have published many articles in legal journals and have been invited speakers at numerous legal seminars throughout the State.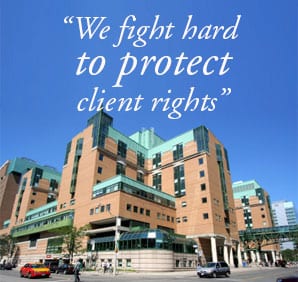 Desclos v. Southern New Hampshire Medical Center
In Desclos, the plaintiff alleged that she was rendered a quadriplegic when her medical care providers failed to recognize her symptoms of spinal cord injury.ii The damages that she sought compensation for included pain and suffering, loss of earning capacity, and loss of enjoyment of life.iii In discovery, the defendants sought all of Ms. Desclos psychiatric and psychological treatment records that preexisted her quadriplegia. The plaintiff refused to produce the records and the defense filed a motion to compel.