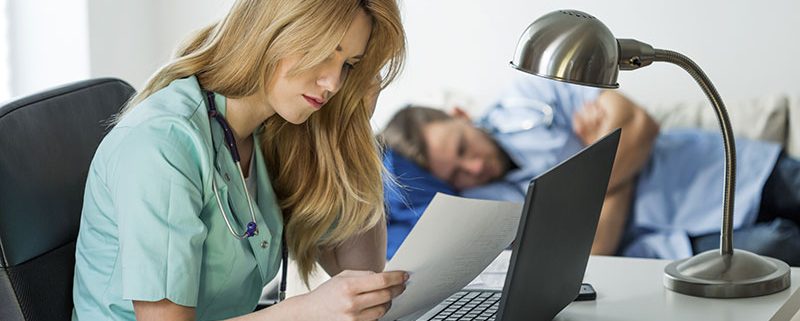 Hospital Patients Less Likely to Survive Cardiac Arrest During Hospital "Off-Hours," Study Reveals
A new study published by the Journal of the American College of Cardiology revealed that hospital patients who suffer cardiac arrest on nights and weekends are less likely to survive than those who experience a cardiac event on weekdays. Roughly 200,000 Americans are affected by in-hospital cardiac arrest (ICHA) and this number continues to rise. 52% of the patients in the study experienced cardiac arrest during "off-hours."
Researchers analyzed over 151,000 adult patients at 470 American hospital between 2000 and 2014 and identified a significant difference in the survival odds of ICHA patients between "off-hours" (weekends and 11 p.m. to 7 a.m. during the week) and "on-hours" (weekdays between 7 a.m. and 11 p.m.). For "on-hour" ICHA patients, the survival odds improved from 16% at the start of the study to 25% by the end. Yet, "off-hour" patients' survival odds improved from 12% at the start to 22% by the end of the study.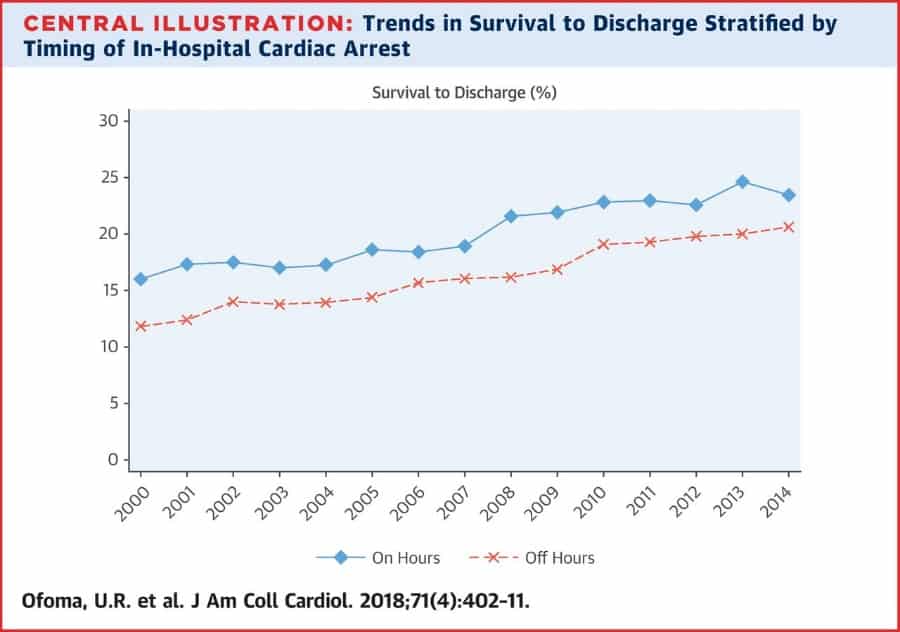 According to the authors of the report, a number of factors contribute to the lower chances of survival during nights and weekends. For example, during "off-hours," hospitals are staffed with fewer healthcare personnel able to monitor patients and detect signs of cardiac arrest. Also, physicians who work nights and weekends provide care to patients with whom they are not familiar. Furthermore, the impact of shiftwork at night affects the staff's "psychomotor skills and performance of skilled activities," making it more difficult to detect signs of a patient deteriorating.
Whether a patient survives after an ICHA depends on "early recognition, prompt initiation of high-quality resuscitation response, and high quality post-resuscitation care." A large proportion of the patients examined in the study, however, suffered a cardiac event that went unwitnessed. Timely treatment is crucial, as 62% of the patients in the study survived after being resuscitated immediately after the cardiac arrest.
The understaffing of healthcare professionals during nights and weekends is contributing to the diminished survival rates of ICHA patients and hospitals must be held accountable. The attorneys at Abramson, Brown & Dugan have vast experience handling various forms of cardiac-related medical malpractice. If you or a loved one have been injured at a New Hampshire hospital, contact one of our dedicated malpractice attorneys today to discuss your rights.

Latest posts by Elie Maalouf
(see all)
https://www.arbd.com/wp-content/uploads/2018/06/AdobeStock_85109694.jpg
533
800
Elie Maalouf
http://www.arbd.com/wp-content/uploads/2017/02/ABD-logo.jpg
Elie Maalouf
2018-03-10 22:13:37
2018-06-26 22:25:21
Hospital Patients Less Likely to Survive Cardiac Arrest During Hospital "Off-Hours," Study Reveals